Savuti XL with tent
Features
Zinc-galvanised steel body, epoxy powder coated, colour beige
A deep body of 590 mm for those larger items.
Four extension legs providing stability on uneven ground
A robust roof rack provides for carrying large items externally, such as tent, includes a table compartment
The trailer is fitted with a large nosecone, with gas lift assisted lid, mounted on the front A-Frame
Aluminium handle on trailer lid and nosecone lid
Plastic handle toggle catch on trailer lid and nosecone lid
A two-person tent attached onto the roof rack
One jerry-can container and one gas bottle holder mounted on the side of the trailer, or two jerry-can containers please advise on order.
A wide rear tailgate for access to the trailer interior, without lifting trailer lid
A side door for access to drawout rack
A gas lift assisted trailer lid allowing for access to the trailer interior, even with the tent attached
8 inch adjustable jockey wheel
36 inch 8 blade leaf springs
8 ring holders for securing luggage inside
Forged Alko pivoting coupler, allowing full lateral and vertical articulation between towing vehicle and trailer
Strong construction using 30% more steel than standard trailers allowing for 4×4 conditions
Long-life 1250kg axle, numberplate twin light, multi-function LED lights
Steel-belt light truck/recreational radial-ply tyres with a multipurpose pattern for on-and off-road use. The tyre offers excellent off-road traction, braking and manoeuvrability in wet or dry conditions.
These tyres have excellent high-speed steering ability plus high levels of comfort, ride refinement, low noise characteristics and improved straight-line performance in highway applications.
Spare wheel.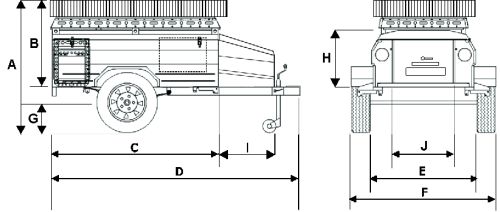 Dimensions
A
Height (over all)
1580 mm
B
Height (side)
1150 mm
C
Length (body)
2110 mm
D
Length (over all)
3225 mm
E
Width (inside)
1135 mm
F
Width (over all)
1585 mm
G
Ground Clearance
300 mm to bottom of axle
I
Length (nose-cone)
650 mm
H
Height (body)
625 mm
Technical Info
Tare Mass
380 kg
GVM
750 kg
Pay Load
370 kg
Axle Length
1400 mm
Axle Capacity
1250 kg
Leaf Springs
8 Blade 36 inch
Wheels
205 x 14 inch
Doors
Door (rear – height)
440 mm
Door (rear – width)
620 mm (J)
Door (side – height)
400 mm
Door (side – width)
600 mm