Venter Vendor (New Version) for sale from Helderberg Trailer Sales – Strand.
View features below…
Venter Vendor (New Version) for sale from Helderberg Trailer Sales – suppliers of trailers and spares.

Features

• Roof height allows for full-height standing room.
• Floor space sufficient to accommodate fridge and/or freezer
• Floor is manufactured from quality corrosion resistant sheet steel
• Body made from corrosion resistant steel
• Secure lockable serving hatch
• Stainless steel hatch with top half an awning and bottom a counter top
• Stainless steel splash-back complete wall-panel behind cooking area
• 4x spring-loaded roof hatches for increased ventilation
• Internal overhead light is provided for illuminating the counter and interior
• Storage tray-shelves provided in nosecone
• Two sliding windows on top right side of trailer for increased ventilation
• Burglarproofing on windows provide essential security
• Two adjustable support legs on trailer rear corners for stabilizing on uneven ground
• Retractable and lockable access step for easy entry through rear door
• Pad-lockable rear access door
• New adjustable polypropylene and PVC jockey wheel
• Multi-function LED lights
• One spare wheel
• Pad-lockable spare wheel bracket mounted on right side mudguard
• Two pad-lockable general-purpose enclosures mounted ahead of • mudguards
• Coupler 'Sigma Auto-reverse type'
• Run-in brakes
• Caravan plug outlet for power supply on right back side of trailer
• 14 inch 5 stud wheels
• Floor covered with nonslip surface for easy cleaning
• Pad-lockable nosecone compartment which is well-ventilated
• Nosecone compartment equipped with bracket with ratchet straps to secure 2x19kg gas bottles
• The trailer has a design registration No. F2004/0491, since 15 April 2004. Copyright also applies in respect of the trailer.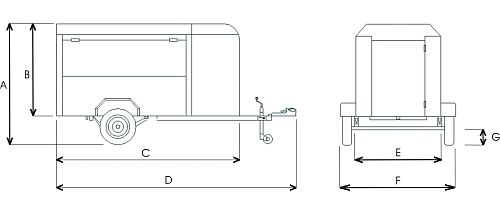 Dimensions
A
Height (over all)
2570 mm
B
Height (side)
2080 mm
C
Length (body)
2660 mm
D
Length (over all)
3690 mm
E
Width (inside)
1525 mm
F
Width (over all)
2025 mm
G
Ground Clearance
250 mm
Technical Info
Tare Mass
510 kg
GVM
1400 kg
Pay Load
890 kg
Brakes
Run-in
Axle Length
1830 mm
Axle Capacity
1800 kg
Leaf Springs
10 Blade
Wheels
185 x 14 inch
Doors
Door (rear – height)
1765 mm
Door (rear – width)
860 mm
Serving Hatch (height)
745 mm
Serving Hatch (width)
1865 mm